Chris Cree, MW
Founder - Managing Partner
Raised in Hunterdon County, Chris began his pilgrimage into the wine business as a teenager with a part-time job at Central Liquors in Flemington, working his way up to a wine sales manager position.
During this time he began to take advantage of being the son of a TWA airline pilot and use the travel privledges to visit as many wine regions as he could. He learned the wine trade from the ground up by visiting countless wineries, working during a harvest, reading everything he could find about wine - and of course, tasting, tasting, tasting! From there he made a career of the wine trade, working in many aspects including retail, wholesale, import, restaurant, marketing, and as an educator.
In 1996, Chris passed the rigorous Institute Master of Wine program and became the 13th American to pass the exam. Now there are 56 Americans and 418 in the world who are Masters of Wine. Click here to better understand what it took for Chris to become New Jersey's only Master of Wine!
Chris soon became an in-demand wine consultant, operated a wine retail business in Clinton during the 1990s, founded The Chelsea Wine Vault in Manhattan, openede 56 Degree Wine in Bedminster, revamped Terminal "C" at Newark Airport with a dynamic food and wine program, and was Managing Editor at WineAccess. He joined the Wine Spectator Grand Award winning in 2015 Pluckemin Inn as their Director of Education and Retail Wine Sales.
In November of 2020, Chris reopened the doors of the historic Perryville Inn as the Cree Wine Company, first selling wine "to go" only while an extensive renovation was completed on the Inn, then introducing Cree Wine Company to the public in November of 2021. Cree Wine Company is the culimation of Chris's passion for wine, extensive industry experience, and his desire to share the world of wine with our customers and community.
Thomas Anderer, DipWSET
General Manager & Spirits Director
Originally from Long Island, Tom has worked as a retail manager and wine & spirits buyer in Manhattan for 15 years before coming and working for Chris. His education consists of the WSET Diploma (one of 11,500 in the world) in 2017, as well as the Sommelier Society of America in 2010. He is passionate about sharing the knowledge he has obtained and helping people enjoy and discover wine and spirits they may have otherwise never known about. He moved to NJ to begin a journey with the Cree Wine Family as well as to start a family of his own, recently becoming a father of two.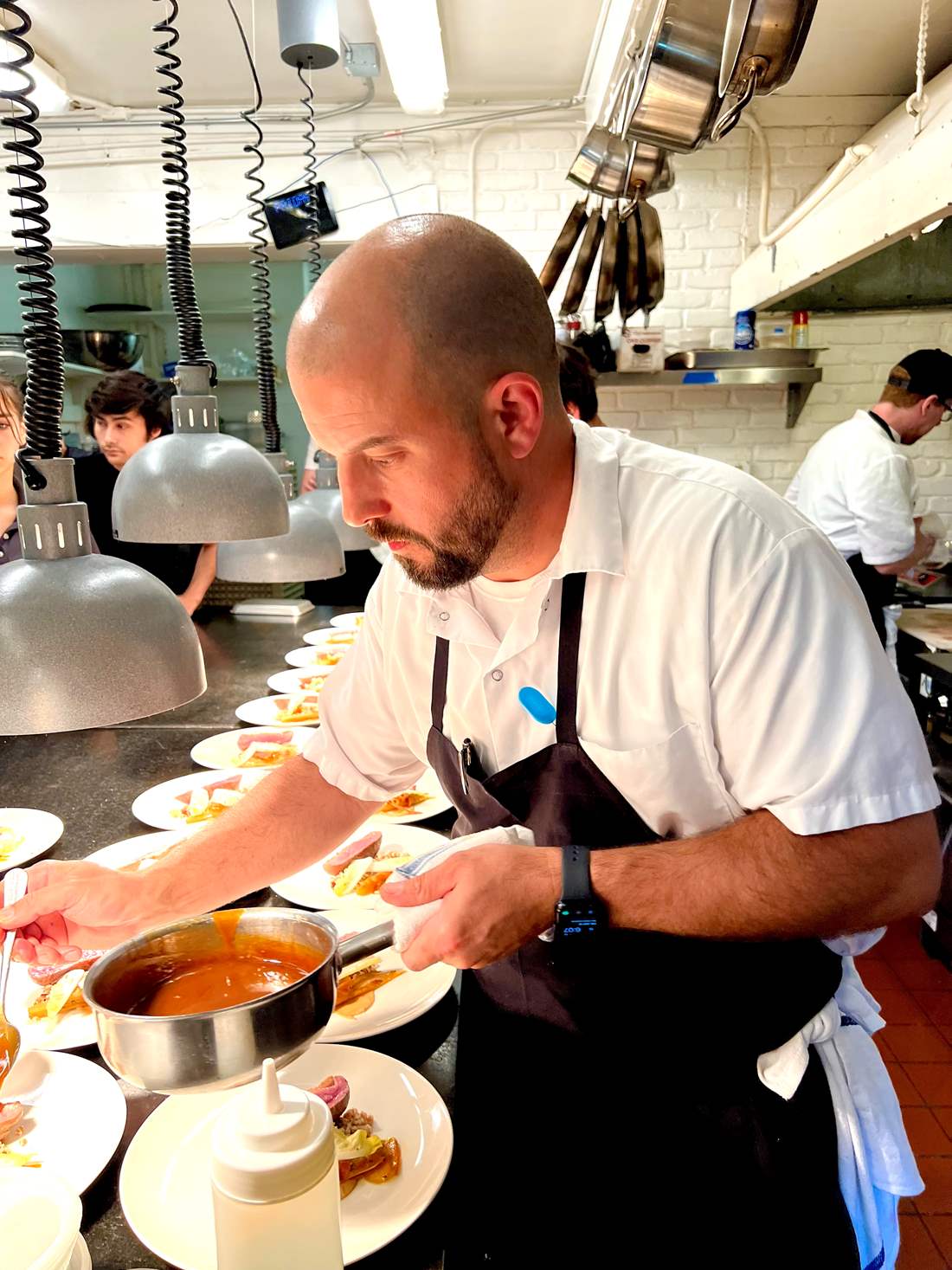 Andrew Lattanzio
Executive Chef
Andrew began his kitchen career working at several Hunterdon County restaurants while attending the Culinary Arts Program in his high school. He then moved on to study at the prestigious Culinary Institute of America in Hyde Park, NY while working as a line cook at Tewksbury Inn on the weekends. After graduation, Andrew worked his way up to Sous Chef before moving on to NYC to work at Town restaurant with Internationally renowned Chef Geoffrey Zakarian. He then returned to Hunterdon County and opened Artisan Kitchen where the Star-Ledger gave him three and a half stars.
Andrew joined the team at Pluckemin Inn as Sous Chef under Juan Jose Cuevas. He worked with the Michelin starred chef for over two years before he assumed the Executive Chef title at the Inn. Andrew has traveled to study the cuisines of Italy, Spain, and Portugal, working with chefs, farmers, cheesemakers, and charcutiers.
Chris first got to know Andrew when he opened Artisan Kitchen, a BYO that brought delicious, well-prepared, authentic cooking to Hunterdon County. They also worked together at Pluckemin Inn, where Andrew's creative wine pairing menus were a joy to present.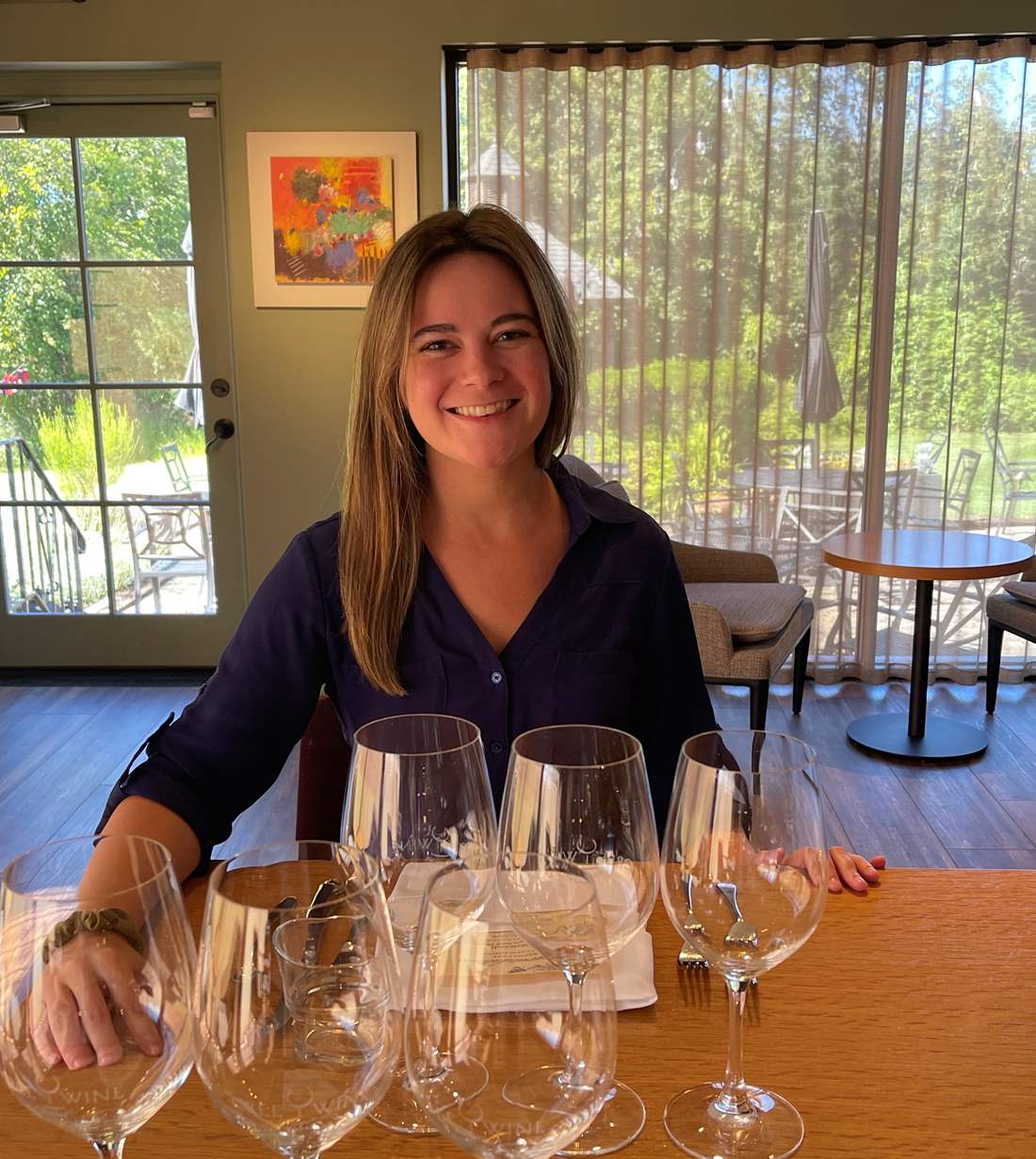 Stephanie Fillmore
Wine Bar & Events Manager
Stephanie has worked in the hospitality industry for almost a decade. She has extensive experience creating and executing flawless private events, including bridal showers, birthday parties, corporate events, wine dinners and more. She has a passion for making people's events special and personal, with a knack for creating bespoke experiences that exceed expectations. In addition to managing all of the private events at Cree Wine Company, Stephanie ensures you have the best dining experience possible by expertly training and managing our wait staff to meet our customers' every need.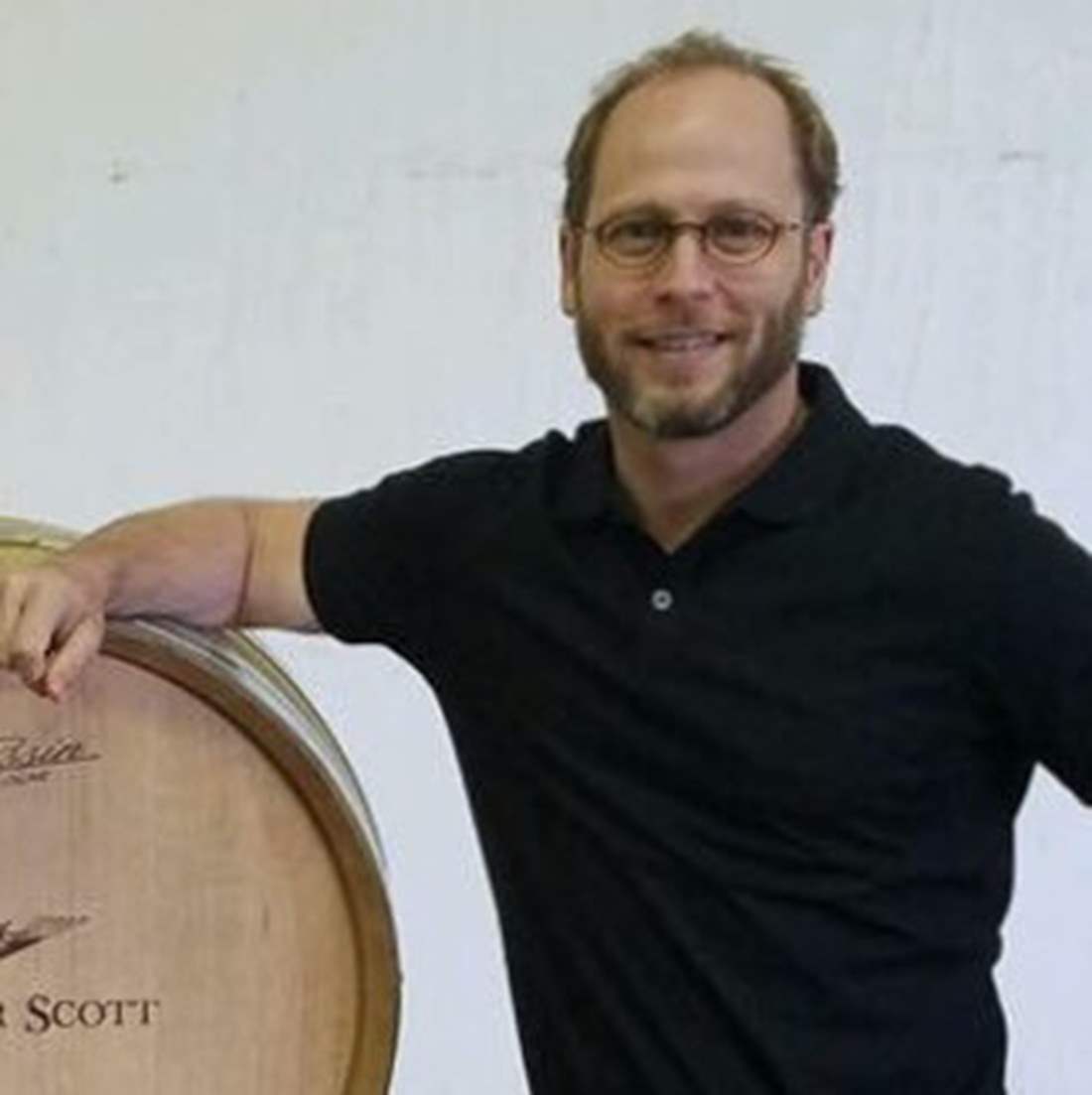 Dan Festerling, M.Sci, DipWSET
Wine Management Specialist & Educator
Born and raised in a beautiful, small town along the Lake Michigan coastline, Dan spent most of his childhood traipsing through the woods or along the shore. An intense love of nature and science led to a graduate degree in Physical Organic Chemistry from the University of Rochester and a continuing 20 year career teaching chemistry in Maplewood, NJ. While still teaching, Dan began working with Chris Cree, MW in 2011. Self-described as more of a "whiskey and gin" guy, he has become a wine convert. He has earned a variety of certifications in wine and spirits from the Society of Wine Educators and the Court of Master Sommeliers, but his most prized is the WSET Diploma in Wine & Spirits. You will be able to catch him pouring wine as a sommelier and educator, as well as helping with retail aspects at the Cree Wine Company.
Jessica Fiorillo
Retail Sales Specialist
Spending her childhood summers running around the vineyards of Upstate New York (specifically the Finger Lakes Region), Jessica's appreciation for grapes started at a young age. It wasn't until moving to Washington State years later that her passion for the wine industry would become more than just a hobby. It was here she discovered the small town of Woodinville, WA. This 5.5 square mile town outside of Seattle houses over 160 wine and spirit tasting rooms representing the best the Pacific Northwest has to offer. Working long hours in the corporate world isolated behind a computer screen, Jessica found herself spending all her free time immersed in the social aspects of wine culture. Wanting to learn more about the industry, she started a "fun part time, side job" on the weekends which quickly grew into a full time career. From Wine-tending at Cougar Crest Estate Winery out of Walla Walla, WA, to Hospitality & Sales Manager for Airfield Estates Winery out of Prosser, WA, Jessica's knowledge and love of American wines grew.
When Covid hit in 2020, it completely changed the hospitality industry. Jessica decided to move back to New Jersey the following year. It was around this time she discovered Chris Cree, MW, was about to open a Wine Bar in her hometown! Her excitement for New World wines mixed with her respect for Old World Wines (plus the fact that Wine Bars are few and far between outside of Manhattan), it was a no-brainer to join the team!
Jessica has been with Cree Wine Company since it opened and has worked in all facets of the business. Her favorite, by far, is introducing people to new wine. Simply put, Jessica loves wine and wants everyone around her to love it too.
Andrew Kaluzny
Retail Lead / Cellar Manager
Andrew is a University of Pittsburgh graduate with a history degree and a passion for wine. With over 500 different wines in the cellar, someone has to know where everything is! We put our faith in Andrew to pack, deliver and ship all of our wine! If you've ever ordered wine online, Andrew is the one to thank!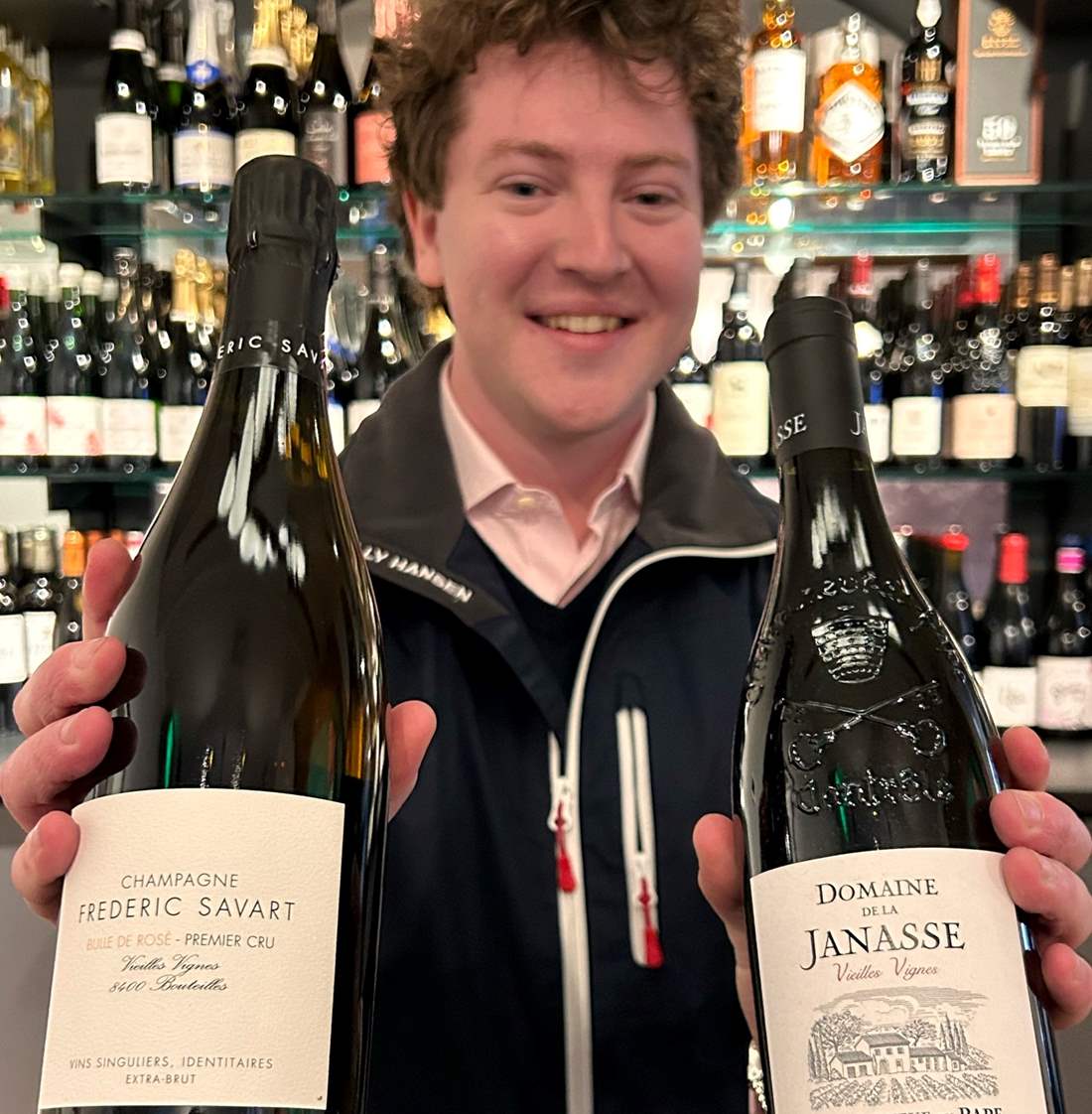 Clifford Bell
Retail Associate
Cliff first fell in love with wine while studying abroad in Aix-en-Provance, France. Clifford's Cree Wine journey began while he was attending one of our wine tasting. He inquired about working in the wine world and asked if we were hiring, the rest is history! Cliff not only works in the retail department, but you might even find him behind the bar from time to time to enrich us with his wine knowledge! His favorite wine is Champagne, so if you have a love for bubbles, strike up a conversation with Cliff and he'd be thrilled to make some suggestions.